According To Experts – 10,000 Years Ago Humans Were Getting High On Cannabis, Using It For Food And Clothing
According to a researcher from the German Archaeological Institute, Tengwen Long, has been conducting a study on the use of cannabis dating more than 10,000 years ago when Europe's glacier had begun to retreat and the plant had become way more accessible to the tribes nearby.
Specifically located in Asia/Europe, tribes would find the cannabis plant and utilize every piece that they could find.
---
Ranging from the nutritious seeds that come from the plant to the hemp fibers that can be woven into simple clothes for the tribe. The best part is that cannabis pre-dates alcohol by at least 3,000 years meaning that this plant was viewed to be a part of the land no one could pass up on.
In fact, 5,000 years later tribesmen realized the potential of bargaining with others on the price that would come from trading this plant with other useful items. Bronze Age herders would trade livestock to other tribes that carried this cannabis plant.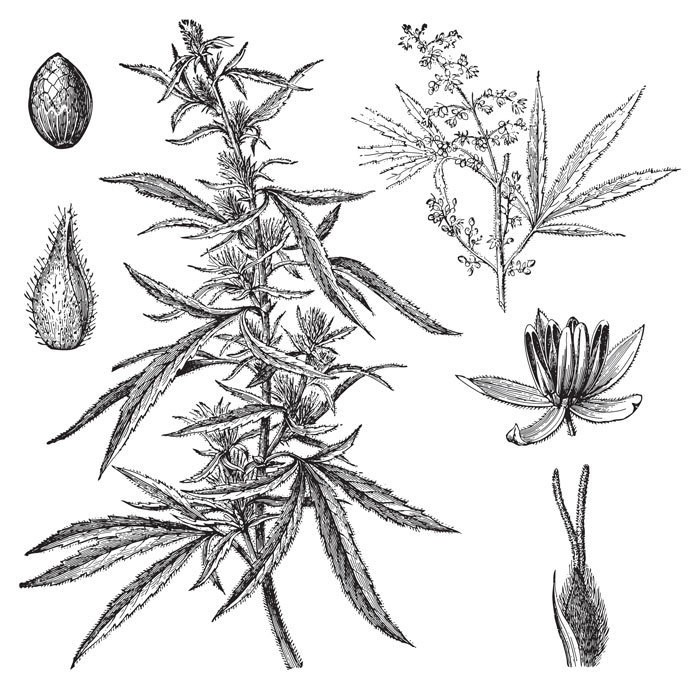 One of the other amazing uses that tribes had realized with cannabis is that they could cook with it. Using it like an essential spice of sorts, they introduced baking a variety of their dishes with cannabis mixed into the food itself.
Cannabis had proven to be one of the most universal plants that every tribe had to have simply because of it's wide variety of usefulness.
Being able to bake with the herb, weave clothing from the herb, or just wanting to smoke it for the sake of having a good time, these tribes were definitely apart of the stone(d) age.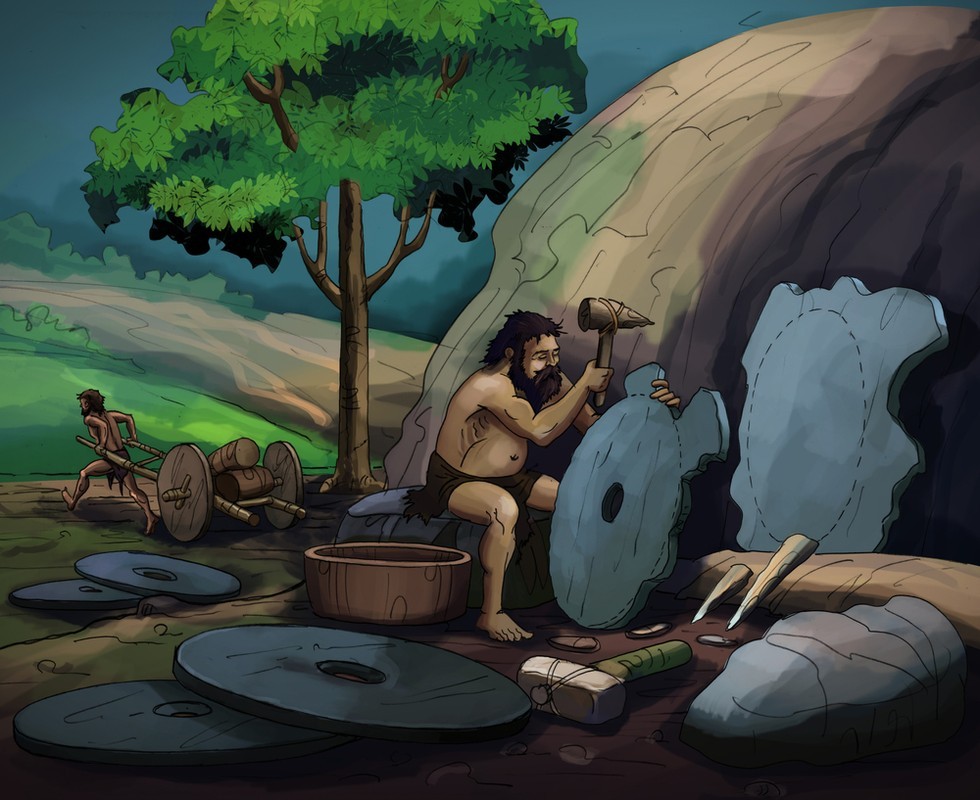 This brings up some critical aspects that come along with cannabis in modern times. Not everyone believes that this plant is harmless and in fact a majority of the population can essentially abuse the drug if not properly moderated like with alcohol.
It's important that we all recognize that even though there is a stereotype that follows cannabis we cannot allow it to sully our view of the substance as a whole.
There are a variety of uses for cannabis more than just wanting to smoke it to enjoy ourselves. People have been conducting a menagerie of ways as to how we can utilize the plants anatomy to make life easier on ourselves.
It's also important to realize that just because someone you may know likes the substance doesn't mean that they are a bad individual for wanting to try something that has been apart of this earth for years and years.
Clearly, this plant has proven to be a major asset throughout history as a commodity and a piece of nature. It would be silly to reject the idea of cannabis all together since it's been around for literally ages.
What do you think about the history of cannabis? Do you think there are other unique ways we could be using it?
January
People born in January are hard workers with strong opinions and you're not afraid to let people know what you think. They tend to be stubborn and don't enjoy being managed.
They tend to be good leaders, given their persistent drive to succeed.They have trouble listening to directions.
Keep reading...
Show less
Face it, many of us have real high standards in our daily life and it's pretty much agreeable for all of us that we end up with a partner that suits us just right.
As it turns out, our zodiac signs can determine a lot about our dating life, and our relationship deal breakers.
Aries:
You're self-assured and a goal-oriented person and need to be surrounded by people with similar traits. If you're not quite so driven, you're likely not an ideal match for Aries.
Keep reading...
Show less
Libra (September 23 - October 22)
Before falling in love, you need to work on building up your self confidence, and getting over your fear of judgement. Begin building up your self confidence by starting conversations with new people.
It's important that you become your own person before getting into a serious relationship, so you don't become an exact copy of the person you're dating.
Keep reading...
Show less
Relationships are a lot of work. You have to be able to recognize your own desires and needs as well as your partner's in order to make things flow harmoniously.
One of the best places to look for insight on how to be the best partner you can be is the zodiac. Each zodiac sign provides a small glimpse into what it's like to be them.
Read below to find your partner's sign, as well as the best way to build a relationship with them!
Keep reading...
Show less
It's hard to believe how far transportation technology has come in just a few years. At the beginning of the 21st century, cities around the world were choking due to extremely polluted air, and efficient public transit only existed in the most densely populated cities.
Today, concern for the environment has driven development of cleaner and greener transportation systems, and public as well as private groups are working hard to connect cities like never before — for example, Elon Musk is hard at work on a hyperloop that would make the trip from San Francisco to Los Angeles just 30 quick minutes.
Keep reading...
Show less
When it comes to figuring out just exactly who you are and what it is you should be doing in this world, looking to the stars for answers isn't a bad thing.
Every single person on this planet is unique and different than the next in some way, shape or form. Some of us possess a great deal of creativity and are only happy when working with our hands.
Keep reading...
Show less
In the U.S. alone, there are more than 12.5 million boats. From small fishing boats on inland lakes and rivers to giant cruise ships and yachts sailing the high seas, Americans love their boats. After all, a day on the water, with the wind in your hair and the sun on your face is an enjoyable pastime.
Unfortunately, it isn't great for the environment. Every time we take a boat out on to the water, it contributes to environmental harm.
Keep reading...
Show less
The year has only just begun and yet people across the world are already gearing up for the biggest astronomical event to take place in North America in almost forty years.
On Monday, August 21, 2017 a total solar eclipse will sweep across the United States, darkening skies from the West coast all the way to the East coast.
Keep reading...
Show less
The most isolated nation on Earth holds many secrets.
North Korea, otherwise known as the Democratic People's Republic of Korea (DPRK) is a unique nation for all the wrong reasons. It is easily the most backward, isolated country on the planet.
Because of this isolation, information about the nature of the country, and the regime in power, is scarce and often not widely known.
Keep reading...
Show less
Human psychology is a truly fascinating subject. It's something that's always interested me since I was a child.
Many things about psychology come off as simply being common sense, but it's when you really dig in and understand the roots of why we do things, we truly begin to understand ourselves.
Keep reading...
Show less
On a subconscious level, we interpret colors as having various different meanings, moods and emotions.
Have you ever wondered why so many fast food restaurant chains have chosen to use yellow and red as their colors? It's because the color combination of red and yellow makes us think "fast" and "gotta go."
Keep reading...
Show less
Did you know that every single thought and feeling that you have in your mind manifests itself physically in your body in some way, shape or form?
This is why the body releases various different chemicals based on our mood or how we're feeling at the time, whether it be feel-good chemicals from being happy, or stress hormones from being anxious.
Keep reading...
Show less
Pink Himalayan crystal salt is something that has popped up in the mainstream over the past few years, so there's a good chance you've heard of it and know what I'm talking about.
If you don't know what I'm talking about, I'm here to tell you all about pink Himalayan salt and why it's so great for you, especially when compared to sea salt and regular table salt.
Keep reading...
Show less
People will always have their own opinions as well as their own reactions to whatever you say to them.
However, it's a good thing to know a thing or two about that persons zodiac before you decide to confront them about something you know is going to upset them.
Keep reading...
Show less
Ancient Chinese legends describe the world, as well as the entire universe, being tied together by five elements: Water, metal, earth, fire, and wood.
Without a balance with all five elements, chaos is free to do whatever it wants. We must treat ourselves the same way as the five elements are since they are the essential building blocks for our world and many others scattered throughout the heavens.
Keep reading...
Show less
We are all aware of the four common blood types we already know which are O, AB, B, and A. The reason why blood types are different in the first place is because each of those blood types depends entirely on the proteins within the blood.
However, with a newly discovered blood type that is RH negative could potentially mean that you could be a person who has alien DNA.
Keep reading...
Show less
When you take this test you will be able to see what the emotional age you truly belong to based on which color you claim the brightest out of two different answers.
There is only one correct answer and that is entirely dependent on the way you see which color is darker and which is the lightest. The test consists of looking at a variety of shades of red, blue, and yellow.
Keep reading...
Show less
Love is one of those things that almost every person on this planet is searching for.
Some of us want it so badly that we get swept up in the initial stages of romance, blinded by feelings of lust, affection, and desire. There's no better feeling in this world than finding a person who loves you just as much as you love them.
Keep reading...
Show less
Understanding an Aquarius in love starts with one recognizing that it only refers to Aquarius that have the planet Venus.
Having Venus in Aquarius makes a person quite special. They take on an unconventional, almost rebellious persona that chooses to express love openly and flirtatiously.
Keep reading...
Show less
Many of us have had that one friend or roommate that just didn't think it was necessary to take showers or maintain their personal hygiene. After a while, it gets pretty gross.
You start to emit foul-smelling body odors, your hair becomes super greasy, and sometimes your skin will start breaking out simply because of all of the filth accumulating on your epidermis.
Keep reading...
Show less


Get Higher Perspective in your inbox