© 2017 Higher Perspective, LLC
This Fortune 500 Entrepreneur Quit His Job To Create Medical Cannabis That Treats Epilepsy
Photo Credit: The Clear
Aging isn't easy, and one of the worst aspects of it is having a sharp mind trapped in a body that is wearing down and getting harder to use.
That's what David Sparer, a brilliant entrepreneur, found himself experiencing. He had debilitating arthritis - so much so that simply walking up a staircase was a challenge.
A close friend of his who founded a cannabis company, The Clear, located in Los Angeles, thought he might have a solution for Sparer's arthritis: cannabidiol, or CBD.
The day after his first CBD treatment, Sparer was up and moving with less pain than at any time in the previous decade.
At that moment, Sparer knew that CBD was his way forward. Suddenly his career at a Fortune 500 company didn't seem that significant, so he left his position to go to work for The Clear.
Part of it was motivated by his own struggles, but another motivating factor was his 28-year-old son.
His son had lived with epilepsy since the age of 2 and now also takes The Clear's CBD tincture to manage said seizures. But his family's CBD success stories didn't stop there.
His 88-year-old mother is on board now too, swearing by a CBD balm to help manage the pain of her arthritic knee. His brother, suffering from stage III Hodgkin Lymphoma, has also found comfort and relief from The Clear's products.
"We know the many different conditions that are helped by CBD, but the thing that's crazy is that this is one molecule," Sparer told LA WEEKLY. "It's really exciting stuff for us to be involved in."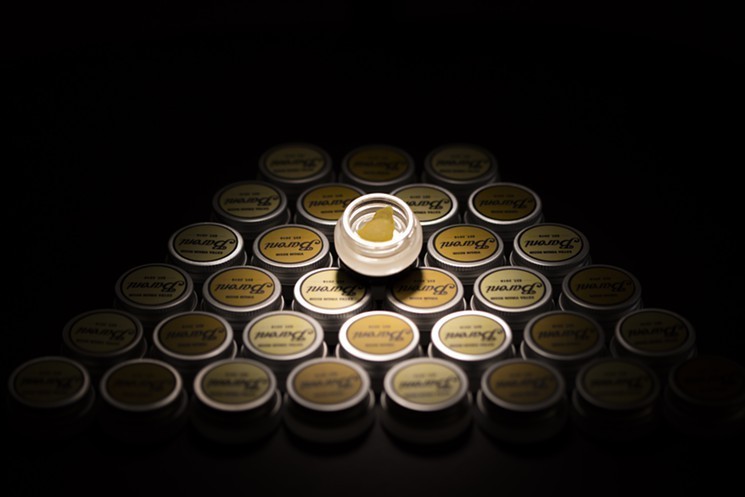 High Times listed The Clear's Baroni Extra Virgin Rosin as one of the top products on the market.Photo Credit: The Clear
The Clear is involved with some really inspiring work. It has provided multiple products to two East Coast universities for research into CBD.
One is an FDA-approved double blind epilepsy study and the other is a study of how CBD functions in our brains.
It hasn't always been this easy to study CBD and cannabis in general. The Drug Enforcement Agency only 12 months ago eased restrictions on studying it.
CBD, which is nearly completely non-psychoactive, is still classified as a Schedule I substance with "no currently acceptable medical use," rendering it illegal in all 50 states in the eyes of the federal government. But Sparer's family would attest that there absolutely is a medical use.
"Marijuana has been around for a long time, but like a lot of other things, once it's prohibited then it loses the ability to be researched appropriately," said Dr. Kamyar Assil, a pain specialist at Ventura Orthopedics. "I think we lost many years of being able to use a potential agent that naturally grows out of the ground."
Assil states that about 10-20% of his patients use cannabis in some form or another for relief, but he can only prescribe medications like Tylenol and Naproxen, which are both known to damage organs. He can also prescribe opiates which run a high risk of abuse.
In California, where The Clear calls home, CBD and all cannabis products are considered illegal and are unregulated until Proposition 64 goes into effect on January 1st, 2018.
But The Clear is ahead of the game. Sparer says they have a team of scientists overseeing production and carefully regulating dose strength and labeling their products accurately.
"If we're going to treat a serious illness, we need to know that the product is good and we need to know the molecule is good to treat that particular thing," says Sparer. "And most doctors aren't going to touch anything until the FDA puts their stamp on it — that's just the way it is."
May. 03, 2017 10:34PM EST
In the U.S. alone, there are more than 12.5 million boats. From small fishing boats on inland lakes and rivers to giant cruise ships and yachts sailing the high seas, Americans love their boats. After all, a day on the water, with the wind in your hair and the sun on your face is an enjoyable pastime.
Unfortunately, it isn't great for the environment. Every time we take a boat out on to the water, it contributes to environmental harm.
Keep reading...
Show less
Mar. 15, 2017 09:48AM EST
The year has only just begun and yet people across the world are already gearing up for the biggest astronomical event to take place in North America in almost forty years.
On Monday, August 21, 2017 a total solar eclipse will sweep across the United States, darkening skies from the West coast all the way to the East coast.
Keep reading...
Show less
Mar. 13, 2017 04:42AM EST
The most isolated nation on Earth holds many secrets.
North Korea, otherwise known as the Democratic People's Republic of Korea (DPRK) is a unique nation for all the wrong reasons. It is easily the most backward, isolated country on the planet.
Because of this isolation, information about the nature of the country, and the regime in power, is scarce and often not widely known.
Keep reading...
Show less
Mar. 11, 2017 10:51PM EST
Human psychology is a truly fascinating subject. It's something that's always interested me since I was a child.
Many things about psychology come off as simply being common sense, but it's when you really dig in and understand the roots of why we do things, we truly begin to understand ourselves.
Keep reading...
Show less
Feb. 18, 2017 08:24AM EST
On a subconscious level, we interpret colors as having various different meanings, moods and emotions.
Have you ever wondered why so many fast food restaurant chains have chosen to use yellow and red as their colors? It's because the color combination of red and yellow makes us think "fast" and "gotta go."
Keep reading...
Show less
Feb. 13, 2017 11:00AM EST
Did you know that every single thought and feeling that you have in your mind manifests itself physically in your body in some way, shape or form?
This is why the body releases various different chemicals based on our mood or how we're feeling at the time, whether it be feel-good chemicals from being happy, or stress hormones from being anxious.
Keep reading...
Show less
Feb. 11, 2017 08:16AM EST
Pink Himalayan crystal salt is something that has popped up in the mainstream over the past few years, so there's a good chance you've heard of it and know what I'm talking about.
If you don't know what I'm talking about, I'm here to tell you all about pink Himalayan salt and why it's so great for you, especially when compared to sea salt and regular table salt.
Keep reading...
Show less
Feb. 07, 2017 08:41AM EST
People will always have their own opinions as well as their own reactions to whatever you say to them.
However, it's a good thing to know a thing or two about that persons zodiac before you decide to confront them about something you know is going to upset them.
Keep reading...
Show less


Get Higher Perspective in your inbox